Revamping our garden with help from Ronseal. #RonsealTheWeekend
Our garden has been looking worn for quite a while now. It's not because we haven't tried to make it look nice . It's mainly because the ground is rubbish .Grass seeds don't really take and then we have a dog who likes to kick it up. A couple of months ago Ronseal contacted me about taking part in their Get on with it #RonsealTheWeekend campaign. This really gave us the kick up the bum we needed to start sorting it out.
First of all we needed to sort the top of the garden out where we had already made an attempt to make it look better. We did this part of the garden around two year ago now . Jordan dug up some of the grass that just got water logged whenever it rained popped some sheeting down and put some lovely purplish slate down. He then finished it off with some edging stones. This really made a difference to our garden and for a while we were happy with it. Until the grass by the back doors was near enough none existent. So we decided it was about time to do something about it.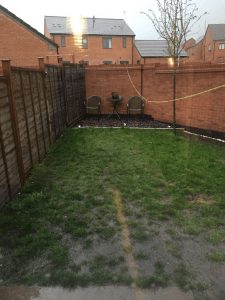 Jordan again bless him dug up a huge section of the ground. Now I never knew how expensive it was to get rid of some soil .Also our bin men are really funny about how heavy the bins are. So we started to look at alternatives, then we thought why don't we just buy a planter fill it with the soil we don't need and make it look pretty with some plants. So that's what we did and boy did it save us a lot of money. We did put some of it in our garden waste bin but not enough that the bin men would refuse to take it.
We then put some sheeting down on the area Jordan had dug up and covered it with Cotswold stone and put a wooden dived between the grass and the stones. We did have to put a little stepping stone in the stones .As Ava's little legs bless her couldn't make it the full distance. We didn't want her to hurt herself on the stones.
Now this is where Ronseal come in .We hadn't done anything to our fences since we had moved in so they were looking a little worn out. Thankfully Ronseal very kindly sent us some Ronseal fence life plus in a medium oak to use to brighten up our fence panels. Honestly I didn't think it would make that much of a difference but it really did the garden looks loads bigger and fresher. It actually looks like someone cares for it. Thankfully the Ronseal fence paint last for 5 years. So we wont have to do it again whilst we live in this house hopefully !
To be fair the main reason why we have updated our garden and made these little changes is so it looks more . To be honest I'm really happy with what we have achieved. Its not going to be the family garden I long for but its defiantly 100% better then it was. So really I need to thank Ronseal for giving us the kick up the bum we needed !
*We received some Ronseal fence life plus for free for the purpose of this post, *